The bad thing about working a 10 hour day is that it takes me 2 hours to check my blog roll and when I hear something amazing, it's usually 8-11 hours after the fact and most of the excitement is gone. I love being there to comment on an awesome post and comment-chat about it.
Anyway, here's the latest in the Twi-fandom: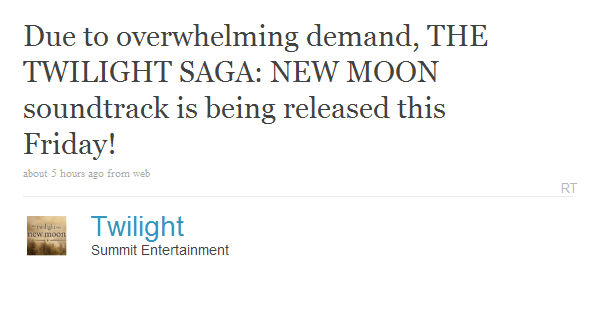 The Twilight Saga: New Moon Original
Soundtrack
will be
released this Friday
, October 16th. This comes from Summit's Twitter account so you know it's official. I'm pretty sure that this was due to it leaking two days ago. They say it's because of the "high demand". Now if only the movie will get leaked, then they'll have to release it now!
You can
vote
now for Twilight's Soundtrack to win an American Music Award (AMA) which will air Sunday, November 22 8/7c.
It looks like there are more magazines heading
my
our way. In addition to Kristen Stewart's November issue of Allure, Harper's Bazaar December issue with Rob and Kristen, Taylor's Rolling Stone issue, Gossip Cop says that all three will be doing an Entertainment Weekly cover. I don't need to go out and buy that one, I have a subscription! Woot! [
Update
: Looks like even more magazines are already out there, check out my
October is Magazine Month
for the new covers].
This Saturday I will be attending Spike's SCREAM 2009 Awards where Taytay will show new footage from New Moon. AWESOME!!
Upda
te
: Two new upcoming events.
Special event. Borders in LA (Westwood) is holding a "New Moon Live" Podcast with people from various Twilight fan sites. More info
here
.
Yet another Convention cashing in on the Twilight band wagon. They call themselves New Con. It's headliners are 100 Monkeys (Jackson's band). It takes place Nov. 6-8 in Nashville. More info
here
.