So, I just got back a little while ago from the taping of Spike TVs Scream Awards at the Greek Theater in Griffith Park. Traffic was horrible but some of the people who went didn't hold back on their costumes. There were some really good ones.
Anyway, I want to share this experience with those of you who couldn't make it but I'm going to warn you now, if you don't want to be spoiled by who wins and what that new footage from New Moon is all about, then well this might not be the post for you.
In case you missed my disclaimer I will color all the really spoiler stuff white, so to read it, just highlight the text and viola!
Disclaimer
: We were told under punishment of being kicked out, not to bring bags, cameras, sharp object, etc. and that we would be metal detected before entering the venue. I'm a newbie at award shows so I took it seriously. I brought in money, lip gloss, my car keys, photo ID and my phone. I should have brought my camera because a lot of other people did and they really didn't care. (so pissed!) That said, the pictures in this post are taken by my free (with contract) phone that seems to have a half a pixel so the pictures aren't so much as photographs but an abstract feeling of what was in front of me.
Arriving and the Checkered Carpet
:
After braving the 101 and the 134 freeways in LA, what usually takes 35 minutes, took me an hour and a half to get to the venue. There really isn't a parking lot unless you count the grass field that we parked in a "lot". They stack us in so you can't get out until the people in front of you leave.
You've got to register before you can get in line. Not a big deal and you get a blue little wrist band. The waiting was a bit boring but it gave us time to check out the awesome costumes and the hotties walking around shirtless (but with bow ties) showing off their tatts *fnar*!
I arrived around
3:30pm
and the line I was in didn't starting moving until almost 5. They were escorting us early people to the checkered carpet which is their version of a red carpet. The kids with the coolest looking costumes were on one side and the rest of us were on the other behind the paparazzi. I'm standing, facing the "stars", in the very back corner of the bleachers so I can see the checkered carpet and also the people filing into the venue and the surrounding area. Lots of people in costume and then they bring out a unicorn. No joke. A white horse with a golden horn sticking out from its forehead. They move the unicorn to the end of the carpet. Then they bring out the angels, scantly clad angels. Above the carpet are black chandeliers and swings among the tree boughs and twinkle lights. The two angels are escorted to the swings and they just sit there the entire time, barely moving.
The "stars" start to show up around
5:30pm
. I put stars in quotes because most of the people that we saw arrive and walk the carpet are B and C list people, probably a couple of D listers too. But, at
5:41pm
Stan Lee shows up! Who doesn't love a good comic book hero? Chances are he created your favorite hero. The cast from Battle Star Galactica arrives at
5:58pm
. I only care about Tahmoh Penikett from BSG but I know him from the Dollhouse. Hottie!
6:45pm
Karl Urban from Star Trek and Lord if the Rings arrives. Another hottie!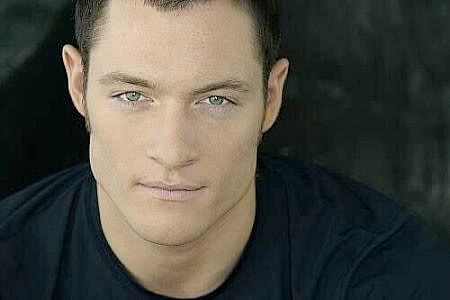 6:50pm
our group gets moved inside the venue.
7:12pm
they announce to everyone to take their seats.
7:34pm
show starts. I'm sitting right behind the VIP boxes on the floor to the right of the stage. I have a view of one of the stages and a giant screen.
Let the show begin
:
MUSE's Uprising introduces the announcer's voice. I'm really excited because MUSE is my favorite and I'm thinking "special musical guests?!" Sadly, no. They just use their song going into a commercial break and coming back from one. Overall their musical choices were spot on. During their breaks (which I thought was weird because they're taping right?) they would have music and show various TV shows opening credits like The Twilight Zone, Buffy the Vampire Slayer, Alf, etc. The stage is pretty awesome. There's a giant rabbit on the right and a giant clock on the left (Alice in Wonderland was pretty popular costumes too). They had a navy blue and white marble staircase with arms railings that were on fire.
They didn't show all the awards for every category. I was really surprised that they never showed the categories where Rob was nominated in but I figured that they weren't close races and he probably won all the ones he was in. Plus, he wasn't there to accept the award and only Hugh Jackman accepted his award via satellite (or taped video message).
[New Moon nominated] For most anticipated movie the winner was (highlight below text to see):
Alice in Wonderland. Johnny Depp was there to accept the award. He was looking fine as always. They said that they would show new footage but it was the same stuff they showed at Comic Con so it wasn't new to me but it will probably be new to a lot of other people.
[Cam Gigandet nominated] For best villain the winner was:
Alexander Skarsgard from True Blood. He's really really tall and has a delicious accent.
[Taylor Lautner nominated] For best breakout performance the winner was:
Taylor! I'm really glad he didn't bring in GQ game to the awards show or else I probably wouldn't be able to contain the drool. Luckily, he was all pink cheeks and twinkly eyes and very 17-years-old.
[Twilight nominated] For best fantasy movie the winner was:
Even Elijah Wood knows what's up when he said, "Of course, Twilight!" [cue massive screams from me]. Taylor walks up to accept the award on behalf of the entire cast and crew and introduces the new New Moon footage. This takes place towards the end of the evening after True Blood wins all their awards. If the show turns out to be a 2 hour telecast, then I'd tune in for the last 30 min or so and skip all the filler stuff.
The New Moon footage:
It starts off familiar enough, a rehash of the second "Jacob" trailer. Then we hear Chris talk more about the wolves, their involvement in the story, and realizing the transformations with CGI.
- behind the camera look at the wolves and Bella confrontation. Sam holding Paul back. Bella bitch punching (doesn't look or sound like a slap) Paul in the face. Paul growling, crouching down, and then bursting up and rearing on his hind legs to stare down Bella in all his wolf-y glory.
- a look at the computer generated models of the wolves faces and their movement
- scanning Alex's 'fierce look' face (who plays Paul) for a 3D composite for the computer to manipulate
- black wolf in the shadows behind the tree branches slowly creeping towards you
- a wolf biting/attacking Laurent
- a push-into shot of a wolf's eye with Bella's reflection in it (it's ends up as a really really extreme close up when it pushes in all the way)
No Robward but plenty of Wolf Pack and half naked man bursting from their shorts transforming into wolves. Pretty cool.
This is shown right after Taylor accepts the award on behalf of the cast and crew of Twilight for Best Fantasy Film.
The show ends after Tobey Maguire gives Stan Lee the Comic Con Icon Award. Stan Lee arrives on stage on a Spiderman glider and his acceptance speech is really endearing and funny. He's the best.
Then everyone left and leaving the parking lot wasn't a complete nightmare. It was totally fun and I'm glad I wore my Chucks and not heels!