Day 2: The Longest Day Ever
Nothing exciting today. Just a lot of waiting and getting sunburned. Media has been crawling all over "Tent City" looking for rabid fans that want to be on camera or interviewed. Every TV station in the area has a truck out here. I could care less about being on television, I"m trying to conserve my energy. Being on camera you need to be hyped up and it's exhausting after a while.
I didn't sleep in Tent City this first night. I went home, took a shower, and came back in the late morning. Truth to tell, nobody had to camp out in Tent City. They never checked wristbands. I think they just wanted something to show the media how fanatic Twilight fans could be. It's a great story, hence all the media attention.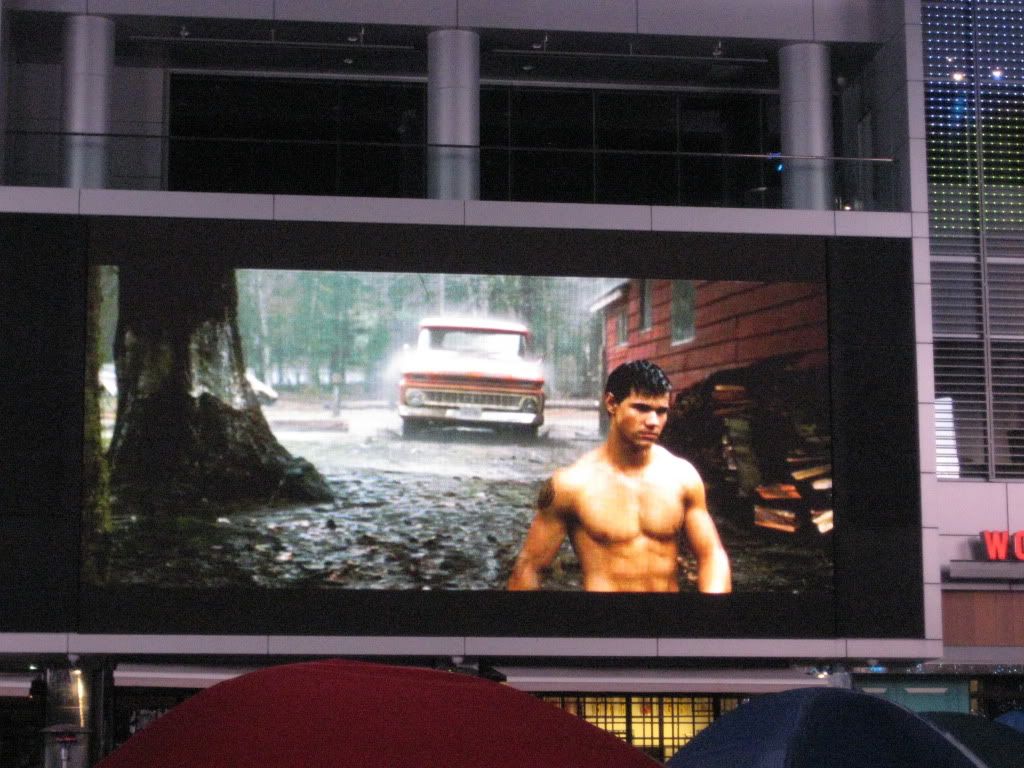 We were told that by 6am on Day 3, we would have to leave the Nokia Plaza and set up camp somewhere else because they needed the area to set up the carpet. So a few of us decided to stick around and camp in Tent City so that we could move our stuff. At 10 pm, the showed New Moon on the giant television for the people staying and camping out. It was great; lots of shouting and woo-hoo-ing. I was getting pretty tired at this point so I only opened my eyes for the Edward parts. The movie ended at midnight.
Day 3: Tired and Oh! Famous People!
The Nokia Plaza doesn't turn of their lights until 2am and we had to wake up at 5am to pack up our stuff to be ready to move to campsite #2. The move was fairly orderly. They moved us to more barricades on the street between Staples Center and the Theater. We set up our chairs but didn't pop up the tent, just not worth it.
The sun was out with a vengeance so we ended up spending most of the day outside tent city. We walked around downtown, got some breakfast, etc. Sometime in the late morning, early afternoon, Booboo Stewart and Tinsel Korey (who play Seth and Emily respectively) stopped by Tent-apolooza. As always, they were so gracious with their to their fans. I think they got to everybody signing autographs and taking pictures.
At three we checked into our hotel that was across the street. We all needed showers and a real bed for the last night to get ready for The Big Day tomorrow. While we were in the hotel, we were all periodicly checking Twitter because we heard word that more stars would come down to Tent City. Almost two hours later we get word that Peter Facinelli is at the Alex's Lemonade Stand.
We, excitedly, walk across the street and back to our camping area. All the fans are lined up against the metal barricades waiting patiently for him to arrive. We don't wait for too long before Peter, Billy Burke, Jackson Rathbone and Julie Jones (Carlisle, Charlie Swan, Jasper and Leah Clearwater) come out of the side of the Nokia Theater. They hand out Burger King food, sign autographs, take pictures, and do some interviews with the media that's there. They were there for a good hour, hour and a half. The boys were very playful. Jackson picked up a small kid and spun him around. As he was leaving I got a fist bump *pow* =D Once I find some time, I'll upload the video that I took of their visit onto my
YouTube
channel.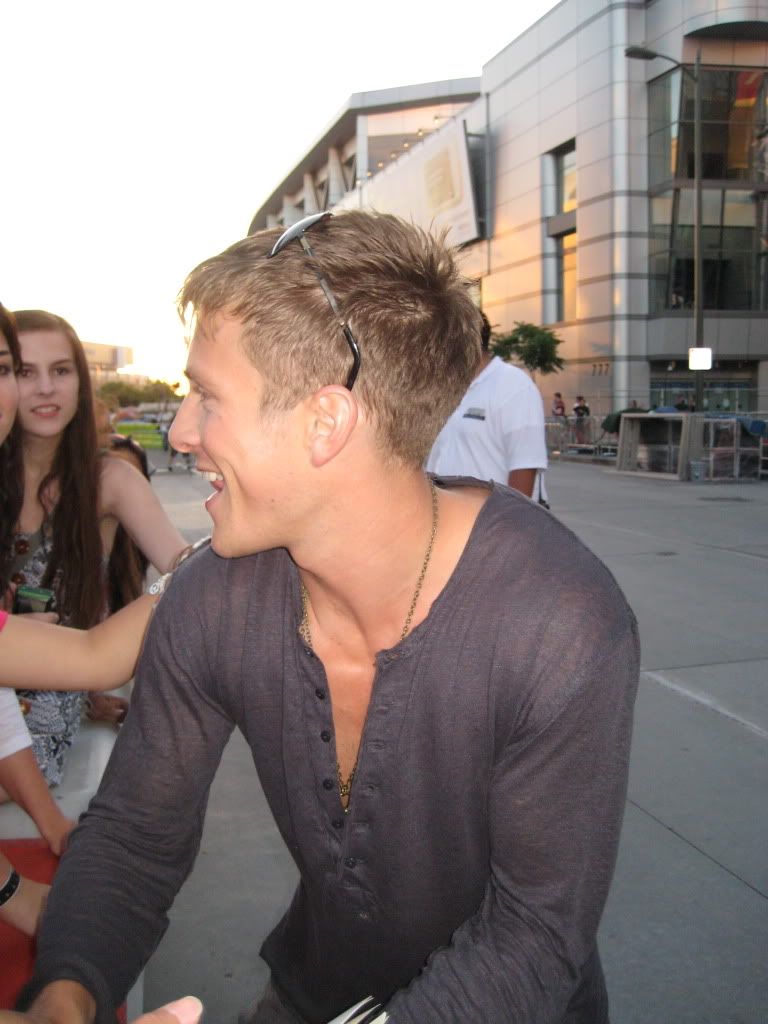 After the wonderful visit we head back to the hotel to download the pictures and videos we've taken. We're getting pretty hungry. We've only had breakfast so we're thinking of taking the car out and getting some yummy Indian food but then we check Twitter and we see that Charlie Bewely (Demitry) is on his way to Tent City. Could this day
get
any better? We're not in the room for long before we get a tip Charlie's there. We rush down and on our way to the main camp we see him by a van taking a picture, we rush over to the side camp and get autographs, photos and video of him. He then walks over to the main camp but he only has a few minutes there before he has to go somewhere else. I don't think he makes it all the way down. Eventually he runs down the line giving hi-fives but someone grabs onto his sleeve and rips his shirt. He gets kind of mad (so would I!). All it takes is one person to ruin it for the others.
Charlie leaves and the place is humming with excitement. "Is someone else going to come?" We're not sure so we walk a block to El Cholo and get some takeout mexican food. One of the servers is young, tall, handsome and single. We linger a bit but eventually walk back to the camp site to eat. We leave around 10:30 pm and walk back to the hotel to sleep. It's been a long day and it'll be longer tomorrow.