UPDATE: Summit has made in information page regarding the Eclipse Premiere
here
.
I'm five part excited and five parts filled with trepidation. Summit has giving us some more details and some ground rules to follow while camping out for the Eclipse premiere on Thursday.
One of the things they mentioned is the size of the tent you're allowed to bring: 4'x4' (16 sq. ft) pop tent. I have combed the various outdoor sports shops and other stores looking for something like that and besides a "Princess Camping Pack" that's meant for 7-year-olds, this does not exist. Four feet by four feet?! I haven't been four feet tall since the third grade! (I'm pretty tall).
I don't what we're going to do about sleeping. We'll mostly be in a giant square, in stead of a long slinky line, for the first two. I'll bring an inflatable mattress and a sheet. Maybe with my chair I can build a fort.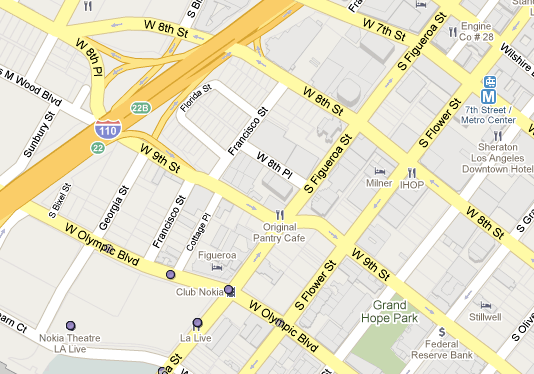 The best parking lot that I found is on the corner of S Flower St/W 8th St (entrance on Flower). It charges $7 for all day parking. It is across the street from the 7th St Metro Center and from Macy's Plaza. The bottom floor of Macy's Plaza has a Bally's Total Fitness Gym, I just signed up for my 7 day guest pass (hello showers!). The Plaza also features a handy food court with all imaginable food types.
The closest grocery story is a Ralphs on W 9th St between Hope and S Flower St. They do have a bathroom. From the entrance go to the back and far left of the store. It's in the corner by the Pharmacy.
Next to Ralphs is a Coffee Bean & Tea Leaf but if that coffee (and free wi-fi) is too far for you, there is a Starbucks in the Nokia Theater plaza. Just head towards the theater.
The weather has been steady the last couple of days. It looks like it's going to be beautiful and not very cold at night. Highs are the mid 70s and lows in the low 60s. It's shorts and light jacket weather.
That's if for now. Just so you know, it sounds like they'll start handing out wristbands on a first come, first serve basis starting at 6am on Monday, June 21 (tomorrow!). I'll see you there!
I almost forgot! The LA Lakers victory parade is starting at 11am tomorrow (6/21) at Staples Center which is right across the street from the Nokia Theater Plaza. Get ready to witness even crazier people that Twi-hards! =D