AKA: Fail Day
This day is 90 part ridiculous/crazy, 10 parts sunny/sunburned with a dash of boredom (maybe more). Word on the street is that the first person "in line" was at around 12:30 am and decided to pretty much create the line and people just stood behind them. So when I arrive around 4:30am (remember, Summit was saying that they weren't giving out wrist bands until 6am and telling people to park in the adjacent parking structure which doesn't open until 5:30am) there were already 300 people in front of me (more or less).
Alright, not the greatest of spots, do-able. At least I went to the New Moon premiere where I collected a bunch of priceless memories and autographs.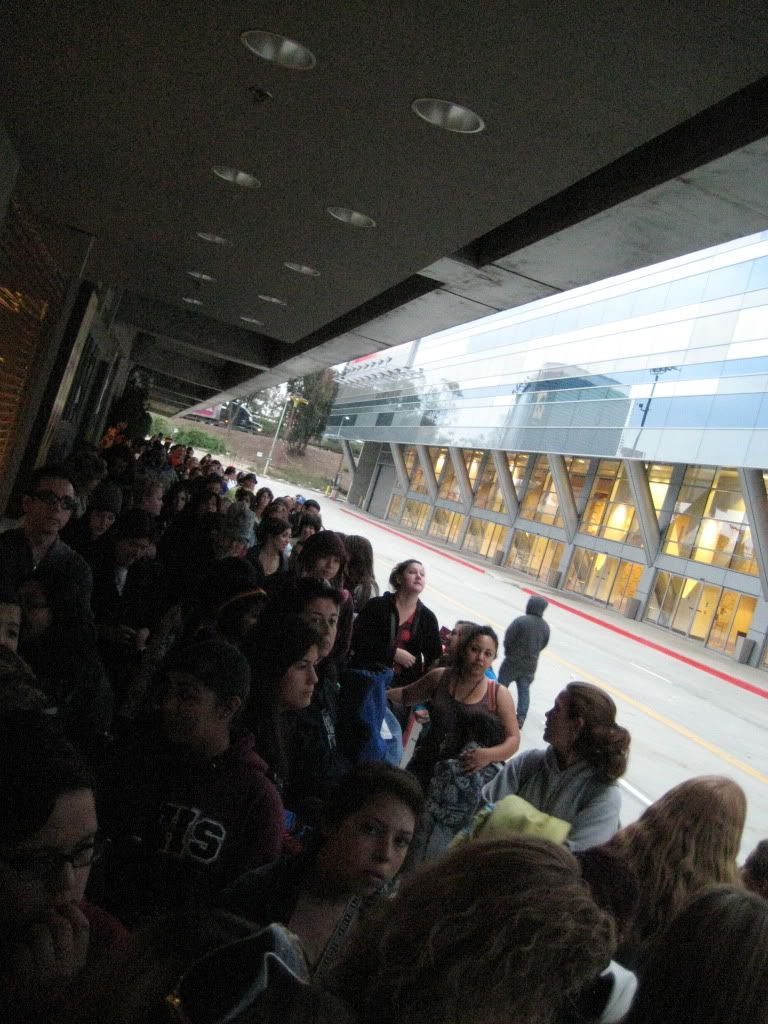 Then Summit shows up and I think it's the fault of one girl in the middle of the "line" who runs and rushes to the front that start off a panic among the sleep deprived, cold Twihards. This one person sets off a mob. Immediately
everyone
is running to the front for no other reason than the people around them are running. I'm thinking to myself "Is PFach here already?" (He stopped by the line last year on her motorcycle and did a drive by). Now we have a mob scene. Summit is saying 'move back to your original location' but people aren't going to move when they see people that were in back of them are not in front of them and aren't budging.
There's a kind of stand still, a "what the hell are we going to do" moment, and eventually we spread out a bit and they start letting us into the Nokia Theater Plaza area where they take our name and telephone number as they but a wrist band on us. This takes
hours
. Then, they change the rules arbitrarily.
Last year, you were camping out for a wristband, this year they give them to you first thing. In their notice, Summit had said that once you received your wristbands, you could leave. We're assuming that they didn't want a bunch of people camping out in the middle of down town in the mists of the LA Film Festival. But that morning as we're lining up to receive our wristbands, they tell us that no, you need be to here, camped out, until Thursday or else you forfeit your place in line. This, understandable, upsets a lot of stay at home moms, people who have a family to take care of, a job, etc. They were saying, "If you're going to change the rules, why do it the morning of and not before? Why are you [Summit] wasting our time?" This caused some people to leave. There were those that came completely unprepared to camp out, others that supplies to the nines. We're talking the Ritz Carlton of tents, pavilions, mosquito netting, inflatable mattresses, chairs, umbrellas etc.
By nine/ten-ish, it seemed that everything was situated. Most were camping out in the middle of the Plaza and I don't know where the others went.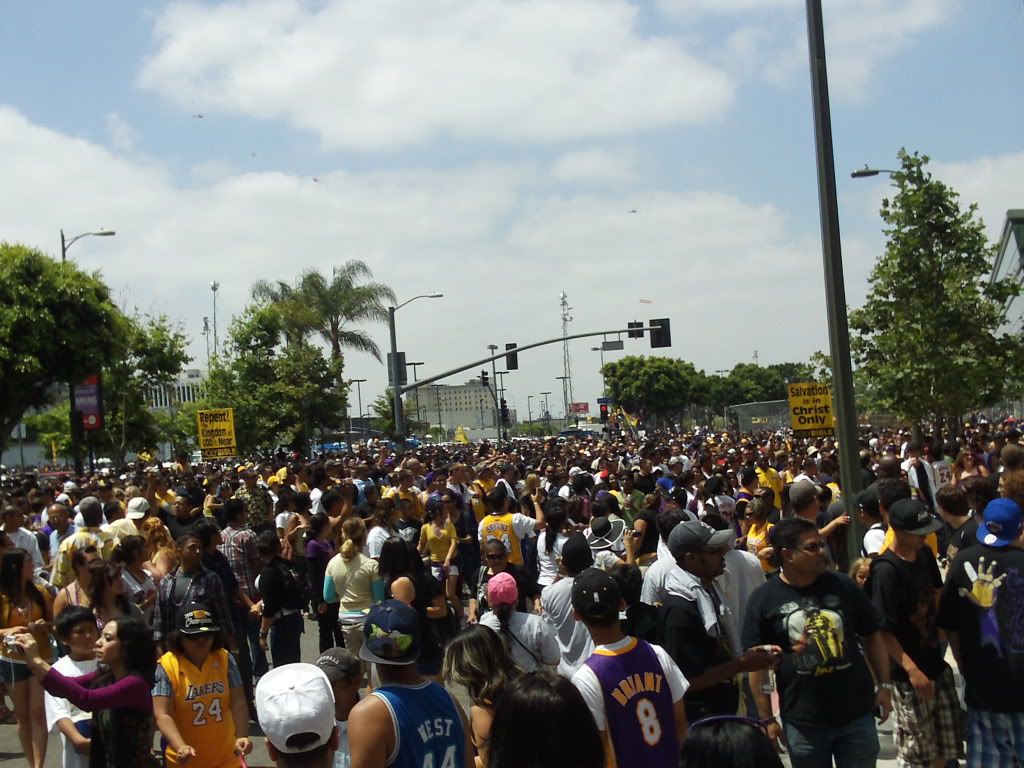 Now if that wasn't enough drama for the day, this morning the LA Laker champion parade took place and started right in front of the Nokia Theater and traveled down the street. Barricades were set up for blocks and streets were closed off. Tens of thousands of Laker fans showed up as early as we did, to watch the parade go by. These were hard core fans all decked out in purple and gold. We were by the front of the parade to around that area, the fans in front of the barricade were around 20-25 persons deep. And that went on for several LA blocks. The noise from the crows, horns, and multiple helicopters was annoying to say the least. I thought the parade was a let down. It was a few fire engines and some double decker busses with the team on the top driving by at about 5 miles an hour. That passes our area in a bout 20 seconds and was done. It was Lame. It took around 3 hours for most of the fans to disperse and leave. People from horizon to horizon, a sea of gold and purple.
The unforgiving summer LA sun was not nice to my beautiful skin, I'm now sporting angry red spots on my arms and chest. I just hope I don't peel.