There are a bunch of little things happening in the fandom. Drama mostly. I'll have my Eclipse DVD review in the next post but for now I'm going to go off on a tangent, while I still remember, and recall the time I spent near the set of Water for Elephants in mid July.
A day off + some detective work on Google + an unhealthy passion for Robert Pattinson = me going out to watch Rob's new film, Water for Elephants, film... twice.
The great thing about living in LA is that there is so much going on. Premieres, movies, sightings, etc. The only down side is an unhealthy obsessions and traffic on the freeways.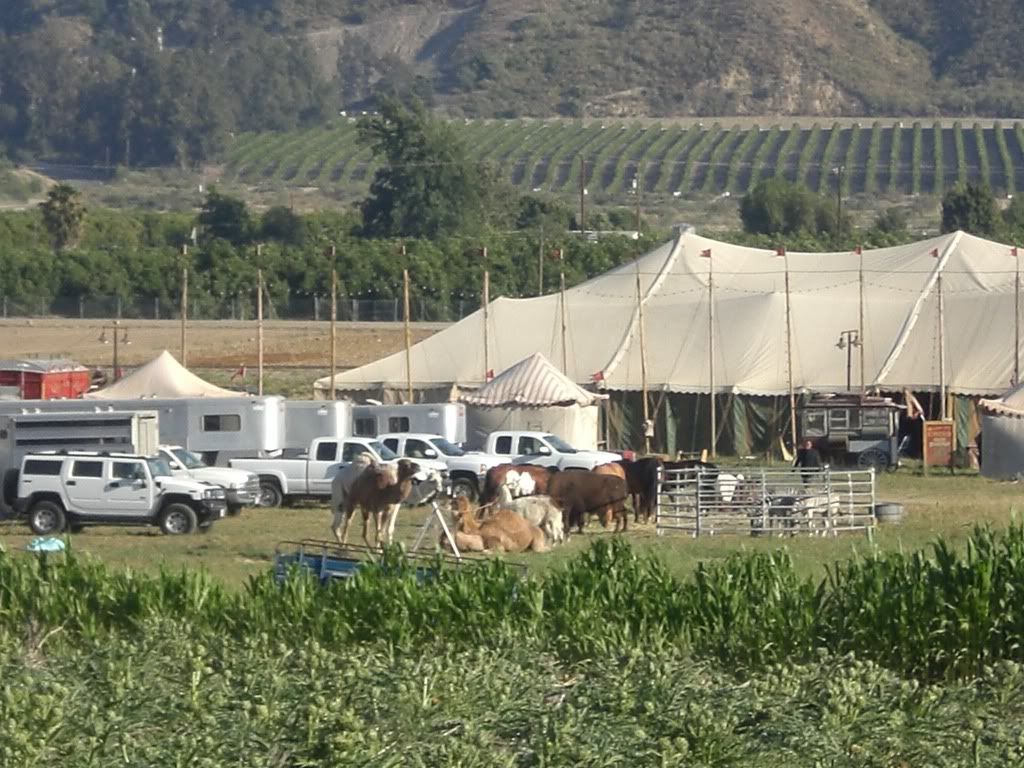 The first day I went, I went in the early afternoon but didn't get there until 2pm because I got lost and couldn't find the place. The Big Top was set up in some farmer's field on interstate 26 between Filmore and Santa Clarita, right by Piru. It's in a little tiny town and the only hint of real civilization that I saw, besides the houses, was the gas station on the side of the freeway. You drive up Main St. to a road that will eventually dead end behind the field. There is a road to the front of the field but you can't see anything of the set because of the trailers and craft tents blocking the view.
From the back you can see the main tent and smaller tents that make up the circus. You can also see the Banzini Bros circus train. The animals were corralled in the back so I could see camels, zebras, horses and even Rosie the elephant made appearances. She's huge but she's pretty quick.
I didn't know what to expect so I was hardly prepared. There were others there, of course, that were veterans at set stalking this movie. They knew the security men, the best places to see, where to eat/go to the bathroom. They were pretty much living out of their cars. So that first day, I didn't stay very long. It was cold and windy and I didn't bring a jacket. There was a whole field between us and the set so I couldn't see much and I didn't bring a chair so I was standing around or on top of my car.
So I left and stocked up on provisions. I bought binoculars, packed a few jackets, a chair, a step ladder, a cooler of drinks and snacks and roped in a friend to go with me. The second day I went, they were doing a night shoot so the principle actor's would get there until around 5pm and wouldn't stop until 5 the next morning. It was a Friday so I had the day off but I work Saturdays. The next day at work wouldn't be much fun but I really wanted to do this.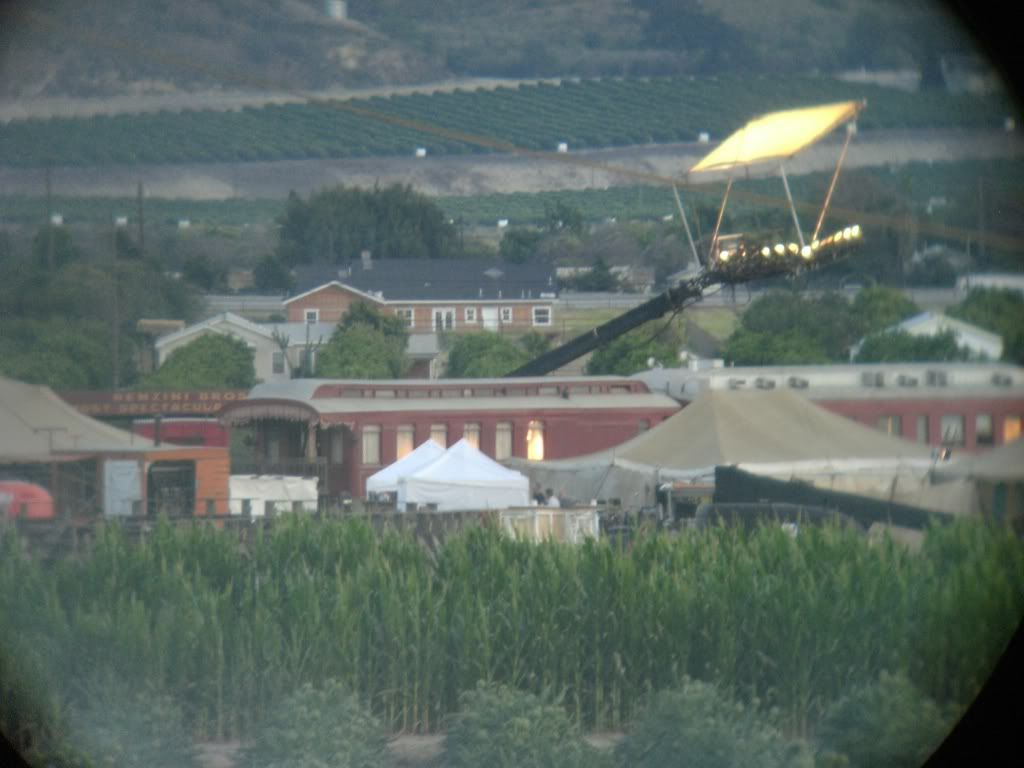 The daylight is slowing ebbing away and we're all there ohhing and ahhing over what and who we see. We see a crowd exit the tent, we see cameras on cranes move about, big lights go on and are reflected back down. I don't know if we see Rob or Reese because we're kinda far and it's dark but I think we do. They do a scene with a group of people out side a tent. I think they were doing some of the stampede scene without the animals.
There was also filming in the train. We could see lights inside and dark silhouettes move past the illuminated windows.
Everyone looked really good in their period costumes. Lots of fedora type hats for the gentlemen and Reese was probably one of only a handful of women on set. They put her in bright colors so we could easily see her.
There was a fire scare at one point. There was smoke coming from either the left end of the train or from a tent over there. It looked like production stopped and a few minutes later, a fire truck and engine arrived. They didn't stay very long, perhaps 15 minutes, before leaving.
The excitement died down and it looked like they moved filming to inside the tent. We couldn't see much from the back so we moved to the front of the set and wait for them to leave hoping for a close encounter or an autograph. Of course, my friend and I weren't the only ones there. Total, I think there were about 22 women there. My friend brought her husband and son and they were the only male representatives there. They chose to wait in the car and watch DVDs. They sure are supportive.
It got really cold. Really really cold. Fog came in and chilled everything it touched. We all moved to our cars with slightly rolled down windows to keep staring for some kind of movement. I tried to nap but it's really hard to sleep when you're freezing. Eventually we see the extras pile into shuttles and people start to leave the set. Cue mass car exodus. They've got their signs out and camera at the ready.
It's about now that I start to feel really really silly for doing this at all. My friend is uber excited that she might get a chance to get a glimpse of Rob. Secretly, I hope that he doesn't exit through the front and sees me because I'll be totally labeled "bat shit crazy" along with the 20 other women that are here and have absolutely no shame. I've talked with them through the night and they're certifiable. We see his security guard come out and check out our little desperate crowd and look for paparazzi (they hung out with us and they are absolutely the worst people in the world next to puppy killers).
Other cast members drive by and wave but not Rob. It looks like he took the back way out. I wasn't sad or disappointed in the least. I was kinda happy but really tired as I left the others and went to work. The fog slowly dissipated as the sun rose. I worked a half day then went home and slept. I don't think I'll ever set stalk a night shoot again but I have plans to go to Vancouver in Feb of 2011, to celebrate my birthday of course, and maybe see some Breaking Dawn filming while I'm there.
More pictures from my time at the Water for Elephants filming
here
.